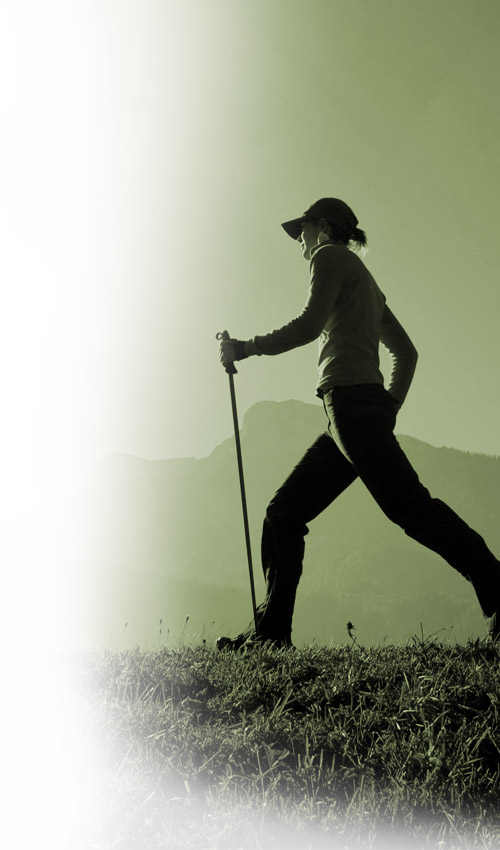 Welcome to CCSF's, Nordic Walking.
Are you looking to improve your fitness, get motivated and have some fun? Do you love being outdoors and exercising in a friendly sociable group? Then why not try something new!
At CCSF, we offer a variety of Nordic walking classes to suit all fitness levels and goals. This activity acts as great cardiovascular exercise for everybody, from those with medical problems to the super fit. You will benefit from using specially designed poles, which propel you forward, enabling you to gather speed without feeling the effort.
Our Nordic Walking Classes are a fun, social, total body workout, which takes place in the beautiful surroundings of Pembrokeshire's countryside.
What is Nordic Walking?
Nordic Walking is an activity that can be used for fitness development, relaxation, exploration, social activities, rehabilitation, weight loss, general enjoyment and competitive sport. Nordic Walking uses specially designed poles to enhance your natural walking experience. With a technique that is similar to the upper body action of classic cross country skiing, Nordic Walking becomes a genuinely whole body exercise that can be enjoyed at many levels, from walking for health to athletic Nordic running. More than 10 million people globally enjoy this outdoor activity all year round.
How will it benefit my body?
Nordic Walking combines the simplicity and accessibility of walking with simultaneous core and upper body conditioning similar to Nordic skiing. The result is a full body workout, which means that you:
burn up to 46% more calories compared to walking without poles
release tension in the neck and shoulders
improve your posture and gait
strengthen your back and abdominal muscles
reduce the impact on the joints
Help trim and tone
....And because Nordic Walking doesn't feel like hard work you'll be happy to walk further and for longer.
Is it for me?
Nordic Walking is a very accessible activity and something that can be shared by people of different fitness levels. It's an ideal activity for people who haven't exercised for a while or who dislike traditional sports or gym activities. An injured person can use the poles to support and guide, working to improve fitness as part of their rehabilitation. Athletes can use Nordic Walking for cross training and incorporate Nordic running. Community groups find it a sociable way to keep fit. If you'd like to shed a few pounds, then Nordic Walking is an enjoyable way to do this. It's great for fitness enthusiasts who like to try new things. Whatever your age from 8 to 80+, you'll probably enjoy discovering the benefits of Nordic Walking that improve your quality of life.
Get started
To get you started our experienced instructor will teach you the correct technique at a Beginners Workshop. We provide an enjoyable, effective alternative to the indoor club environment. Nordic walking is open to everyone. This group will be up to 8 people and will last just over an hour. Don't panic about your fitness level, you can take it at your own pace.
We look forward to meeting you.
NORDIC WALKING LOCATIONS
Chris-Cross-Ski Fitness, NORDIC WALKING sessions in the following locations.
To enquire about sessions please contact: Goldie on 07538872212
Please book in advanced – limited spaces available. First come first serve basis.