I embarked on a long journey travelling from the Pembrokeshire region across to Dover/Calais and down half of France to prepare for the 70.3. Vichy ironman race. A 5 ish hour drive to reach Calais followed by another 6 hours to Vichy. Some may prefer to travel by plane but I thought I would make a holiday out of the trip and drive down in my van, with the company of my girlfriend helping out as we camped a few days in advanced on-route with some hotel stops as the competition got closer to the time.
I am used to long distance travelling and this does not bother me, but I wouldn't recommend it to the faint hearted. Especially If you haven't done this with your partner before - you will soon find out if you get on as well as you thought you do or not, ha. I wouldn't take the plane either as I like to know where all my kit is and even the thought of my kit getting miss handled at the airport. "I don't think so". I am sure most triathletes would agree with me and may seem sad to non-committed athletes, "my bike is my baby".
Why Ironman Vichy? Well originally one of my friends fancied the idea of taken on a 70.3 Exmoor (UK) BUT thought this may be too tough to start with as a first. He informed me about the better and flatter course in France which was sure to have better weather than back home. Having done a few IRONMANS before I thought I'd jump on the chance to go with him to participate and help him achieve his goal. To complete a 70.3 IRONMAN.
………Unfortunately my mate could not go, due to some injuries sustained but "The lone wolf" trekked on and still competed without him.
For those who know where Pembrokeshire is, it's a bit of a mission and trek from anywhere. So we set off at Half 3 in the morning to miss all the Cardiff rush hour and M25 traffic, we arrived an hour early ready for the ferry at 11,05. A good time to have a shake out, stretch and munch to eat.
Before Race day
This involved a lot of resting, eating carbs and familiarizing myself with transition areas etc although I had done this during days before, I just wanted check and be happy as I had a funny feeling the heat we had the last few days didn't seem to be shifting any time soon. Checking a few times eases me as I know I would be a tired, snotty mess when transiting. On the bright side I was looking forward for a tan up to the bod during the race. I am sure I was going to have some white bits at the end, a good look I must add.
Racing is uniquely taxing in any weather but adding heat into the equation creates a competing interest and struggle within the body between powering such a strenuous effort and the need to cool the body. working even harder to cool yourself and is why a race will feel much worse than a workout in similar conditions. During the time in France we faced temperatures in the region of 32-36 degrees, of which 36 degrees empowered on us during race day. I was in no way expecting heats around that kind of heat and I certainly had never raced or trained in anything like that before.
Lucky enough we traveled down early enough to help with the acclimatization and adjusted my preparation accordingly. Taking on more electrolytes two to three days before the race, staying as cool as possible before hand and running a shorter warm-up before a hot event to prevent the loss of electrolytes, particularly if you're running a longer event. If you're fortunate enough to anticipate less-than-favorable conditions for an event, preparation is key.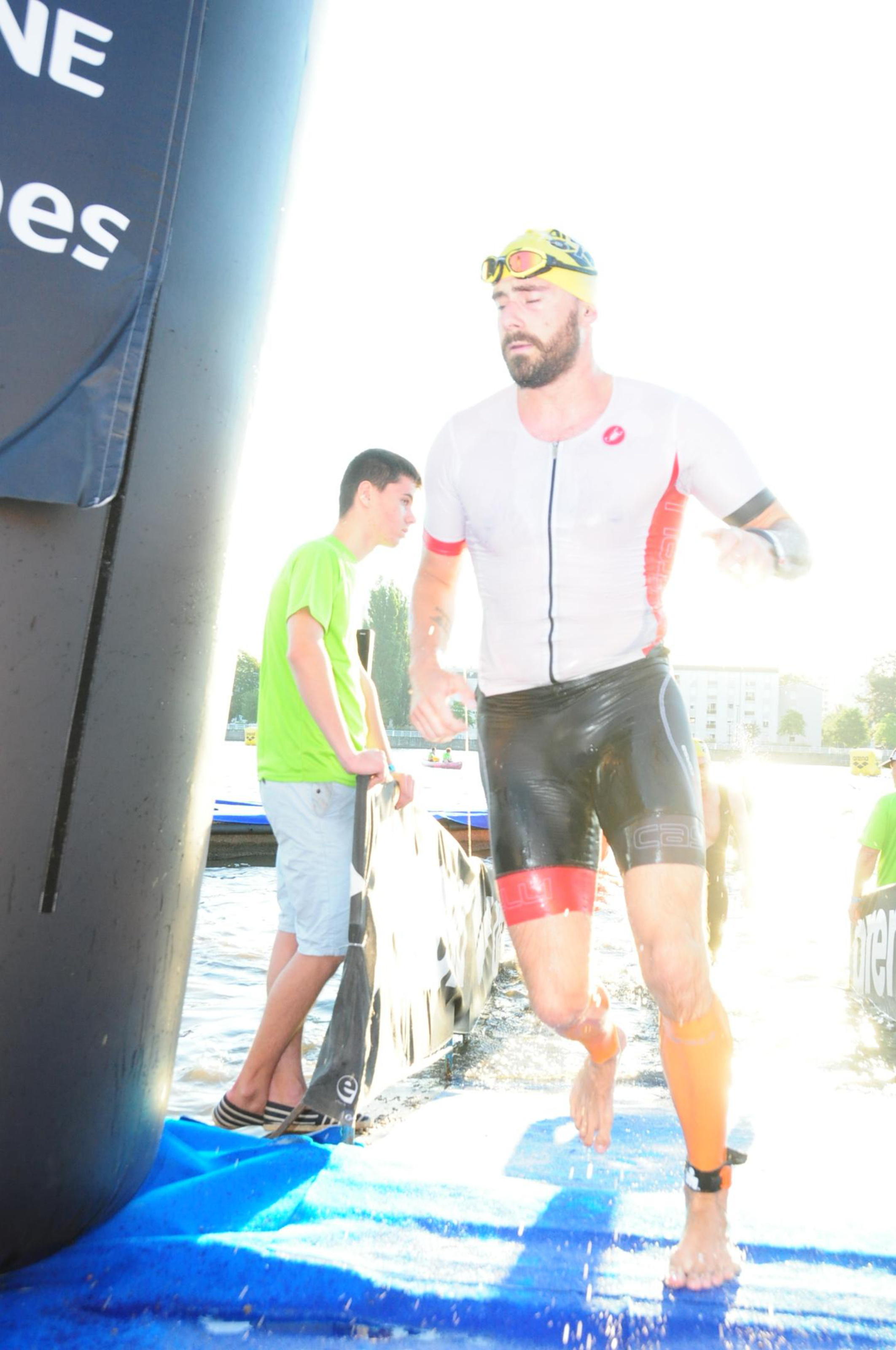 Swim

The weather conditions were far too hot for a wetsuit swim, even during early hours of the morning. The worse news I could have ever been given, I started to worry as I always relied on my wetsuit to keep this brick of a swimmer more buoyant. I was now in unknown territory. This was now becoming more of an arduous swim.
It was a rolling start, athletes are staged in different zones. These zones are determined by the athletes predicted swim time. The start area itself is narrowed to control the flow, releasing 3 athletes every 5 seconds. The swim hand railed the Lac d'Allier and back down the centre where the massive crowds are just few meters away from you. It's not often you get to experience that overwhelming noise and support while swimming. It took approximately 45 minutes to get everyone in the water. The swim took me longer than anticipated but the worry of never of trained in this sort of heat made me think to hold back a tad, as I wanted to complete the race. Lake Allier was beautiful and amazing location – maybe I did take it too easy.
Bike
My bike was located near the end of the racks so I was delighted not to be fannying around to find my kit. I shot out as quickly as possible and settled into my rhythm. The course was mostly flat with a handful of climbs and little wind. Perfect conditions except the blazing heat.
My nutrition down to a "T" of which has taken me a lot of time to perfect. Lucky enough the only nutrition products that I train with and find out what works best for me were provided during the race, happy with that. A tip to other, check before you go as these products can vary and may mess up your race day. Try to remember the facts of hydration for future training. Getting your fluid consumption can be a fine art. Just remember keep sipping and always take more fluid on every ride and run that you need.
I was greeted by a French cyclist as we both pasted each other along a large section of the course, he came up from behind once again to pass me but to talk, this would have been the last time he did as one of the course marshals drove past us on a motor bike showing him a black card (corresponding to the drafting rule). This gave him a 5min penalty as the overtaking rule states you have 25seconds to pass the other rider. He was not a happy chappy. From this point I felt bad for him and decided to not hang about and be his friend, I left him to it cursing.
I felt great! I could push more and more, although it wasn't easy to keep powering at a constant high rate – beast mode was on.
At one point around the 55km point I noticed my tri-bar pads were coming loose. I thought to stop and tighten them up but I kept on pushing forwards as I didn't want to lose too much time as I was mixing with some big dogs during that point of the ride. This ran through my head constantly and I eased off slightly controlling any excessive movements. I was in luck, the plan worked and got me to the end. A sigh of relief as I came into T2.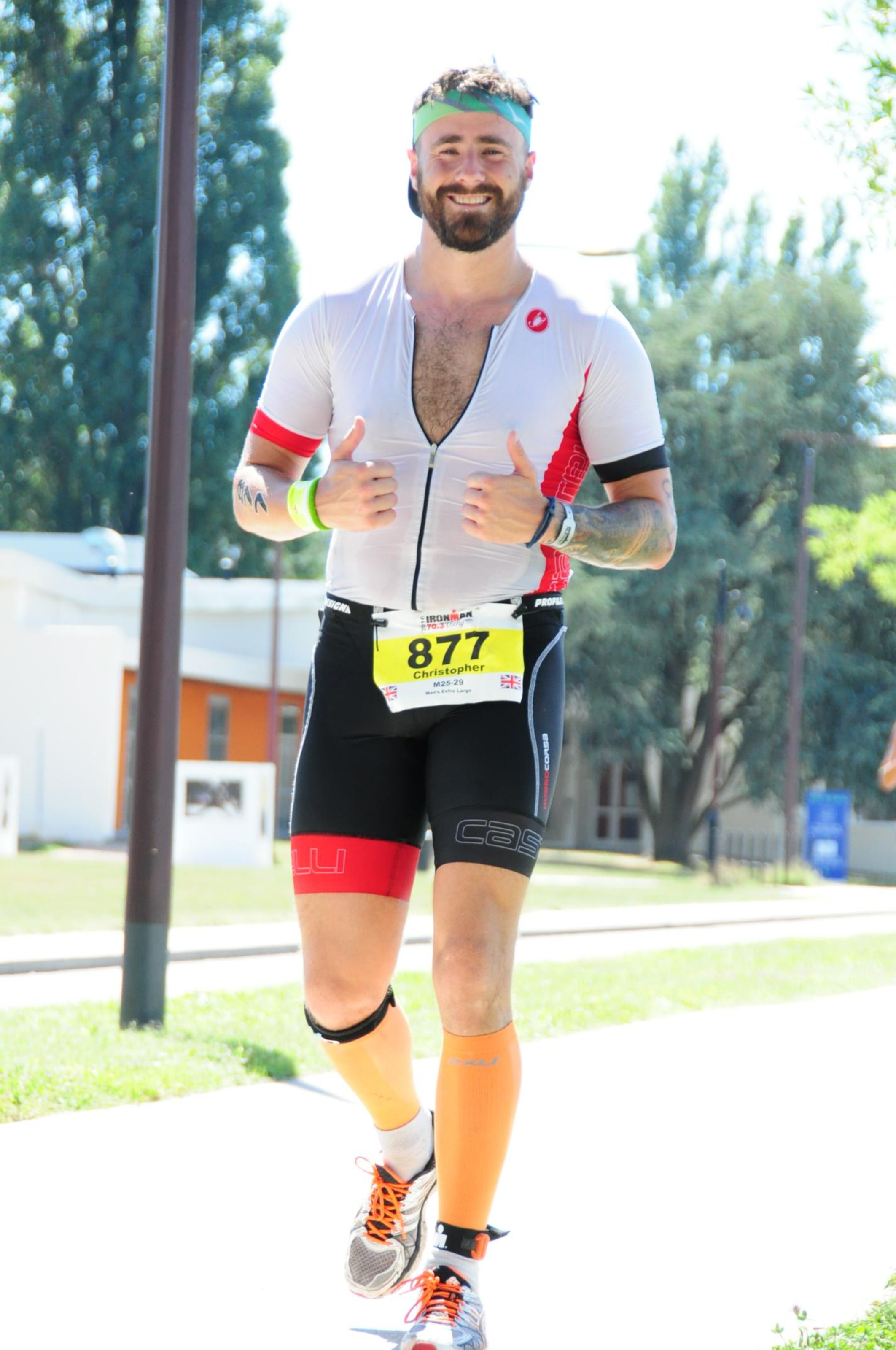 Run
I had a lot of time to think on the run. The bike leg re-energised my efforts and kept me pushing to not lose all my hard work that was gained. It reminded me to keep plodding past people as flashes of my last run comp let me down. I have bad knees anyways but today they didn't seem to give me jip and my main aim changed as I was able to tick off runner's one after another.
The run course was also flat taking you along the river's edge on the cycle path and through the busy town, where a lot of people awaited. The heat was blazing and the god send that helped me through was the guys/women at each end of the water and food stations, hoseing everyone down with cold water. That's what you need which made life a tad easier.
The finish line will be an unforgettable experience as the announcers welcome you home as a finisher in the awesome atmosphere of the stadium at the Palais du Lac.
Finish/Conclusion
Buzzing, is all I can say.
Commitment, positive mental attitude, patience, confidence and toughness are the vital traits. I have respect for the seasonal athletes and proud of the ones I know. I know in myself as a coach what it takes to complete these kind of events, but as an athlete I still have a long way to go. The only barriers we face are the ones created in our minds.
Looking back with the course selection in more detail now, I was glad to have entered, as some of my last races didn't work out as planned and this had knocked my confidence. Vichy has given me a boost, although my swim wasn't great the whole experience was amazing. I am very happy with my overall times and would definitely recommend this venue to others. Overall time 5hrs 40min.
Some tips training in the heat and how to manage
All depending where in the world or part of the country you live in but at some point you will train on a hot day. some may be mega hot and can be dangerous if not managed correctly.
The best way to beat the heat is to stay out of it.  This doesn't mean staying inside with your thumb up your backside watching a series of Game of Thrones. This means planning your day and your triathlon training, getting up early and start training as the sun comes up.  That's right! 5am / 6am start.
You can also mimic a lot of your training sessions on a treadmill changing inclines and speeds, it can also help with your run cadence.
Late training sessions are also fantastic however you can be restricted by light so ensure your safety is treated as number one priority.
Hydration - Ensure you are hydrated before you start training and take small sips during. I always recommend weighing yourself before you train also. Whilst training ensure you are using a good electrolyte replacement and if on a long ride or run ensure you have backup stock on you.  Water is simply not enough as it is not replacing the magnesium and electrolytes. I tend to use the high5 fruit sachets, I find they work for me but you must experiment and find out what best is for you. This does take time to perfect.
Freezing your drink's the night before can be a welcome relief rather than having your fluids at 36 degrees while it sits in the sun. A tip what I do is that I place the drink part full on its side in the freezer. This will freeze and you can pour cold water in the other half – keeping your fluids cold.
Swim Hydration - it might not feel that you are getting dehydrated however you are still training and sweating just the same.  Swimming is a discipline where athletes often forget to rehydrate and some rarely even take a drink with them at all.
Check your PEE WEE.
Remember: It is just as important to prepare yourself mentally as well as physically for race day. Practice your nutrition and for worse case scenario's.
Train safe. See you next year. Coach Goldie