An Ultra Marathon isn't just a race: it's a windy, rocky and leg-thrashing trail. It is far from easy.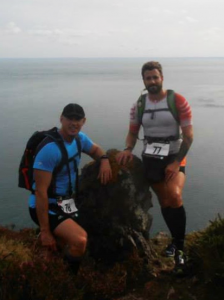 When I completed my first ultra, I had little to no information about what I was doing.  I love a challenge and testing my body but to be honest I'm not sure what I was thinking, but I just went for it.
It was a great experience though; beautiful scenery, met some amazing people, sunshine and unlocking them doors of the unknown was an eye opener to figure out how to race the ultra-distances.
With good information, ultras are manageable and rewarding when you complete one. Here is some advice I would recommend anyone who is working towards their first ultra.
Chill out
Don't dash off at the start line like a normal race and get carried away, getting drawn in with the faster runners at the start. Run your own race and there is a lot of time to build up your pace, if you dare.
Prepare for rollercoaster emotions
You are going to have doubts, fight the demons. Stay positive, everyone else is going through similar emotional swings, even if you can't tell. They are.
No excuses
Pain, the possibility of injury or even having time to commit to these events. You don't have to do it but you need to decide you're going to do it. There are so many things that can go wrong no matter how well you prepare.
Hydration packs
Bring your own fluids in a bottle, pack or belt. There will be water stations throughout but not knowing how much time will pass between them or what situation you may get in. It's up to you which you prefer to use.
Test equipment and yourself
Spend time trying new kit out and seeing what works best for you. Everyone is different. That includes your race day fuel plan, extra clothes and gear you need to complete. Get comfortable running with the gear you will wear or carry and train with the gear you will be racing in.  I use longer compression socks- as some tracks may have prickly plants, this won't be good if your cut during the start of your race as you will suffer for a long duration. Never underestimate the performance enhancing benefits of just being comfortable.
Nutrition
You will be carrying calories, electrolytes and water. Make them items easily accessible. Your long runs and workouts are the great opportunity to try out different foods, gels, and electrolytes to see what works best and what doesn't. Before race day, have a solid plan and follow it during the race.
Back to back
The longer the race is the more mental it is, the best way to train your brain mentally is to run 2 long days in a row. The second run is getting out training whilst sore, tired, fatigued legs and continuing to run, fuel yourself and practice mental strategies.
Keep a close eye to the weather
During the race the weather may change a lot or not at all. But knowing what the weather conditions will help you prepare and pack cold weather gear in your drop bags at stations.  Gloves, hats, jackets etc.
Do your homework
Know the course and train accordingly. Pick out certain elements of the course that may be difficult for you and practice those areas in your training. Study the course map profiles and race photos, I have done many races that I get into and realize I didn't train on the type of terrain I was on, they don't go down so well. This will hit you mentally also, dragging you down.
No promises
Even with a solid training/race plan, and nutrition is on point, don't assume you'll automatically have a great race. Some people do and some don't, but use it and learn from it.
There is obviously a lot more to it than a few bullet points, but I found these are some of the biggest factors. The learning curve for me was big and long, I never knew anyone who had completed an ultra, so I prepared what I though was correct.  To shorten that learning curve is that I would recommend to get a knowledgeable coach that can help you do things right the first time.
Completing one is a huge accomplishment. Good luck.
- Goldie-